Mazda CX-5 vs Subaru Forester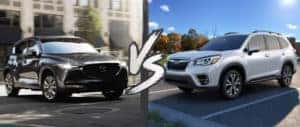 Compare the Mazda CX-5 against the Subaru Forester and Find Out Why the Mazda CX-5 Wins
When it comes to shopping for a new compact crossover, it's all about deciding what's important to you. The 2020 Mazda CX-5 and the 2020 Subaru Forester, both shine with their style, their performance, their packed slate of features and their affordable pricing. But the Mazda CX-5 is more convincing at the end, due to its superior engine selection, quality interiors and diverse feature portfolio. Also, the Mazda CX-5 is among the best looking small SUVs, and strikingly different from the utilitarian-looking Forester. Below we are providing a side-by-side comparison of the two models in order to understand better their key differences and to help you decide on the SUV that's best for you and your driving needs.

2020 Mazda CX-5 vs. 2020 Subaru Forester

Mazda CX-5 vs Subaru Forester: PERFORMANCE
The Mazda CX-5 has long been one of the most athletic compact SUVs on the market. With its balance, excellent chassis and snappy 6-speed transmission, the Mazda CX-5 is fun to drive and eager even with its base 187-horsepower engine. With the optional turbocharged engine of the Mazda CX-5 Model, you even can take advantage of its 250 horsepower and 320 lb-ft of torque.
The Mazda CX-5 base model already comes with a strong feature set that includes active safety systems like forward-collision warning with automatic emergency braking, lane-keeping assist, and blind-spot monitoring. If you choose the Mazda CX-5 Touring Model, you will get Apple CarPlay and Android Auto as your smartphone integration systems. Performance is acceptable from the 182-horsepower 2.5-liter flat-4, but the Subaru Forester is not as responsive as a regular automatic. And there's only one powertrain available with no turbocharged option.
Mazda CX-5 vs Subaru Forester: Exterior Comparison & Safety
As soon as you look at the Mazda CX-5 and the Subaru Forester side-by-side, you will notice some prominent differences. The 2020 Mazda CX-5 with its designer looks has a much sleeker and more sophisticated design. The overall effect is more luxurious than its competitor, the Subaru Forester.
The look of the Subaru Forester is a bit more modular. Details like the logo and the perimeter lights stand out against the design, and the profile doesn't seem to flow as nicely as the Mazda CX-5. The side mirrors of the Subaru Forester are black instead of body-colored which breaks the visual flow.
The sharper-looking Mazda CX-5 is slightly shorter in both length and height compared to the Subaru Forester, which will make maneuvering it a little easier, but won't cause a loss of passenger or cargo space.
Safety is a crucial argument for choosing your new family SUV. The 2020 Mazda CX-5 comes packed with safety and security features. Best of all, most of them are standard for every trim level. When looking for standard advanced safety, here's what the Mazda CX-5 has to offer:
Advanced Blind Spot Monitoring

– alerts you when a vehicle enters your blind zone.

Rear Cross-Traffic Alert

– notifies you of vehicles approaching from the side as you're backing out of a parking space.

Smart City Brake Support

– operates between 2 and 18 mph, and warns you when you're approaching a vehicle too quickly.
Mazda CX-5 vs Subaru Forester: INTERIOR & Technology
The Mazda CX-5 is one of the best looking small SUVs inside and out.The interior design on the Mazda CX-5 is much sleeker and more stylish than the Subaru Forester, and you'll feel a lot more luxurious in the Mazda CX-5.
The Subaru Forester offers a bit more leg and headroom in the front seat than the Mazda CX-5, but it's not so noticeable to make a difference to most passengers. Both offer nearly the same space for rear passengers.
Both offer plenty of standard convenience and technology features. The Forester comes standard with adaptive cruise control, which is only optional on the Mazda CX-5, but the Mazda comes out ahead in many other ways. It includes features that the Forester does not offer, such as a leather gear knob and leather-look steering wheel, retained accessory power, map lights in the rear, USB ports for charging and device streaming, and a proximity key.
The Mazda CX-5 also has some great optional features, such as a heads-up display for speed and other readouts, rain-sensing wipers, and air-conditioned seats. You can't get these features in the Forester even if you're willing to pay more for them.
Overall, the Mazda CX-5 offers a more attractive interior with more comfort and convenience features. Sorry Subaru Forester :(.
Mazda CX-5 vs Subaru Forester: Conclusion
You will love the handling of this stylish SUV and how fun it is to drive, whether you are on side roads or highways. You'll feel pampered with the comfortable upholstery and the great convenience features, and you will absolutely look forward to being able to drive it every day. By choosing the Mazda CX-5 as your new compact crossover, you will get more in terms of style, comfort, performance, and features compared to the Subaru Forester. All in all, you will get a lot more value in the Mazda CX-5 than the Subaru Forester.
Experience The New Mazda CX-5 Today at Palm Springs Mazda
If the Mazda CX-5 is the family SUV of your choice, browse our vast Mazda CX-5 inventory to see what's available at our dealership in Cathedral City, CA. Don't forget to check out our monthly Mazda CX-5 lease and finance offers. The best way to experience what the Mazda CX-5 has to offer is by taking your favorite Mazda CX-5 trim for a test drive. To schedule a test drive or learn more, call (760) 328-2102 or contact us.
---